Topic 1: Heat waves in India
Context: At least 68 people admitted to a district hospital in Uttar Pradesh's Ballia are suspected to have died between June 15 and 18 due to scorching heatwave conditions, with temperatures soaring up to 43.5 degree Celsius in the region.
What is a Heat Wave?
A Heat Wave is a period of abnormally high temperatures, more than the normal maximum temperature that occurs during the summer season in the North-Western parts of India.
Heat Waves typically occur between March and June, and in some rare cases even extend till July.
The extreme temperatures and resultant atmospheric conditions adversely affect people living in these regions as they cause physiological stress, sometimes resulting in death.
The Indian Meteorological Department (IMD) has given the following criteria for Heat Waves :

Heat Wave need not be considered till maximum temperature of a station reaches atleast 40°C for Plains and atleast 30°C for Hilly regions
When actual maximum temperature remains 45°C or more irrespective of normal maximum temperature, heat waves should be declared.
Occurrence of Heat waves:
Heat waves are forms for one of two reasons:

warmer air is flowing in from elsewhere or
it is being produced locally.

It is a local phenomenon when the air is warmed by higher land surface temperature or because the air sinking down from above is compressed along the way, producing hot air near the surface.
Air mass and heat waves

The north-northwestern heatwaves are typically formed with air masses that come from 800-1,600 km away and are around two days old.
Heat waves over peninsular India on the other hand arrive from the oceans, which are closer (around 200-400 km) and are barely a day old and are on average less intense.
Why do heatwaves cause deaths?
High temperatures alone aren't fatal in nature.
It's when high temperatures are combined with high humidity, known as the wet bulb temperature, heatwaves become lethal.
Impact on humans:
Humans lose heat generated within their bodies by producing sweat that evaporates on the skin.
The cooling effect of this evaporation is essential in maintaining a stable body temperature.
As humidity rises, sweat does not evaporate and makes it difficult to regulate body temperature.
And this could cause a heat stroke.

Heat stroke takes place only when the body temperature goes above 40 degrees Celsius.
Excessive heat increases metabolic activity in the body, leading to a drop in blood pressure and oxygen levels with increased sweating.

This is a condition called hypoxia.

Metabolism goes haywire (in such conditions), creating a toxin overload which affects multiple organs
Prolonged exposure to even moderate heat, with poor nutrition and hydration levels in these circumstances, can lead to hypoxia.
Those with pre-existing metabolic disorders like diabetes, the obese or the elderly, are more vulnerable.
Conclusion:
Heat waves have a sophisticated anatomy with important implications for how well we can predict them.
Early-warning systems can improve the quality of warnings and also increase how soon they can be issued.
Sizeable investments in human and computational resources have already increased India's forecast skills in the last decade.
Mortality over India due to heat waves are substantially lower than those in other mid-latitude regions.
India should further improve forecast warnings, issue them as soon as possible, and couple them with city-wide graded heat action plans to protect the vulnerable.
---
Topic 2: Ex Khaan Quest 2023
Context: Indian army contingent participates in multinational joint exercise "Ex Khaan Quest 2023" in Mongolia.
Key details:
It is a multinational Peacekeeping Joint Exercise.
Contingents and observers from over 20 countries have participated.
The exercise is co-sponsored by Mongolian Armed Forces (MAF) and United States Army Pacific Command (USARPAC).
The Indian Army is represented by a contingent from the GARHWAL RIFLES.
Aim:

It is aimed at enhancing interoperability of the participating nations, for sharing experience and to train uniformed personnel for the United Nations Peacekeeping Operations (UNPKO).
The military exercise will enhance the level of defence co-operation between Indian
What is the U.N. Peacekeeping mission?
The U.N. Peacekeeping mission is a joint effort between the Department of Peace Operations and the Department of Operational Support, and aims to assist host countries to transition from situations of conflict to peace.
The U.N. began its Peacekeeping efforts in 1948 when it deployed military observers to West Asia.
U.N. Peacekeepers provide security as well as political and peacebuilding support to conflict-ridden countries.
The three basic principles that guide U.N.'s Peacekeeping missions are:

Consent of the parties
Impartiality
Non-use of force except in self-defence and defence of the mandate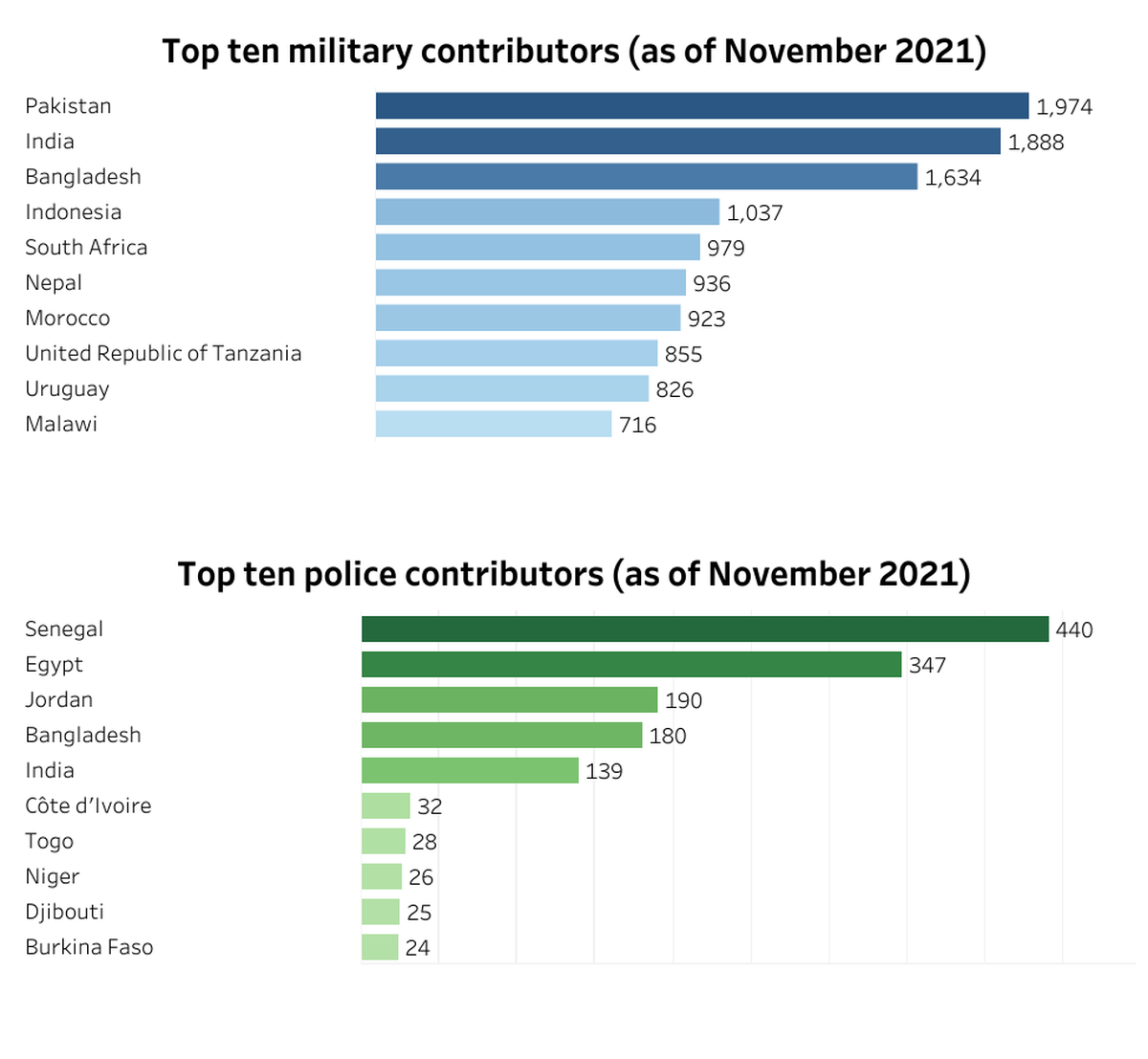 India's contribution towards United Nations Peacekeeping forces
Over 200,000 Indians have served in 49 U.N. Peacekeeping missions since 1948.
Currently, 5,581 Indians are part of various U.N. Peacekeeping missions.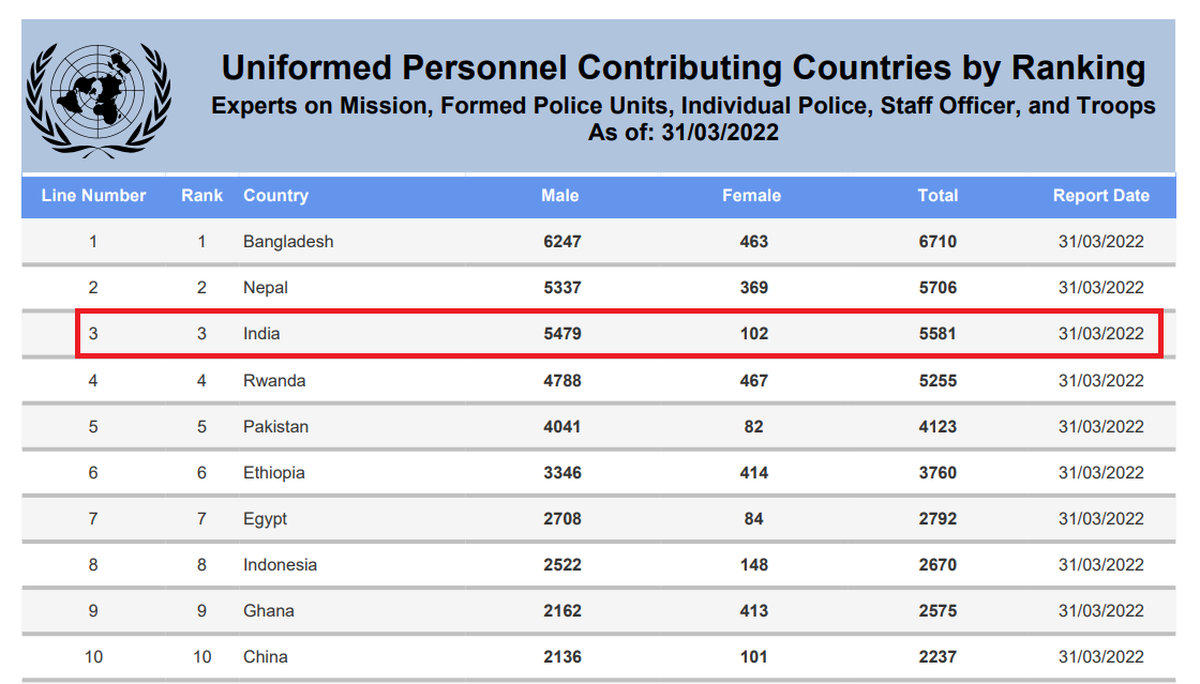 In 2007, India became the first country to deploy an all-women contingent to a U.N. Peacekeeping mission.
Despite its presence in several countries as part of the Peacekeeping missions, India has routinely expressed its displeasure at a similar mission headquartered in Srinagar and Islamabad.
The United Nations Military Observer Group in India and Pakistan (UNMOGIP) was established on January 24, 1949 to supervise the ceasefire between India and Pakistan.
UNMOGIP has remained in the region to observe hostilities between the neighbouring countries and report ceasefire violations along the Line of Control (LoC).
---
Topic 3: DAKSHTA For Young Professionals
Key details:
A new curated collection, DAKSHTA (Development of Attitude, Knowledge, Skill for Holistic Transformation in Administration) For Young Professionals, is now Live on the iGOT Karmayogi Platform.
It is tailored for Young Professionals & Consultants engaged in Government.
Aim:

This collection seeks to build functional, domain and behavioural competencies by acquainting learners with subjects crucial for discharging their duties, and responsibilities effectively.
About Karmayogi program:
The iGOT Karmayogi Platform is a comprehensive online portal to guide government officials in their capacity building journey.
The portal combines 6 functional hubs for:

online learning,
competency management,
career management,
discussions,
events and networking.

Karmayogi Bharat, a government-owned, not-for-profit special purpose vehicle, has been established by Ministry of Personnel, Public Grievances, and Pensions.

It is entrusted with the responsibility for owning, managing, maintaining and improving the iGOT (Integrated Government Online Training) Karmayogi Platform.

Karmayogi Mission:

It is dubbed as the biggest bureaucratic reform initiative.
It is a new capacity-building scheme for civil servants aimed at upgrading the post-recruitment training mechanism of the officers and employees at all levels.
Mission Karmayogi programme will be delivered by setting up a digital platform called iGOTKarmayogi.

The platform will act as a launchpad for the National Programme for Civil Services Capacity Building (NPCSCB), which will enable a comprehensive reform of the capacity building apparatus at the individual, institutional and process levels.
NPCSCB will be governed by the Prime Minister's Human Resource Council, which will also include:

state Chief Ministers,
Union Cabinet ministers and
experts.

This council will approve and review civil service capacity building programmes.

Besides this, there will be a Cabinet Secretary Coordination Unit comprising of select secretaries and cadre controlling authorities.
Also, there will be a Capacity Building Commission, which will include experts in related fields and global professionals.
Funding:

To cover around 46 lakh central employees, a sum of Rs 510.86 crore will be spent over a period of 5 years from 2020-21 to 2024-25.
The expenditure is partly funded by multilateral assistance to the tune of $50 million.
---
Topic 4: Indo-US ties: Economics & Strategy
Context: Indian Prime Minister heads to the United States for an official state visit on the invitation of American President.
Economic engagement
The value of trade between the two countries has touched a record $191 billion, making the US India's largest trading partner.
For the US, India is the ninth largest trading partner.
American companies have invested around $60 billion in India in sectors ranging from manufacturing to telecommunications and consumer goods to aerospace.
Indian companies have put in more than $40 billion in sectors such as IT, pharmaceuticals, and green energy.
Air India announced the purchase of more than 200 Boeing aircraft
.
Strategic underpinnings
Quadrilateral Security Dialogue:

The flagbearer of the strategic engagement is the Quadrilateral Security Dialogue.
The Quad began as a broad partnership after the 2004 Indian Ocean tsunami.
It gained strategic heft after the four-country grouping, which has Australia and Japan alongside India and the US, was repurposed in 2017, primarily as a counter to China's growing influence in the Indian Ocean rim, and as a forum for redoubling focus on the Indo-Pacific region.

The I2U2:

The I2U2, a grouping of India, Israel, the US and the United Arab Emirates, is focused on joint investments and new initiatives in water, energy, transportation, space, health, and food security.

Critical and Emerging Technologies:

India and US launched a new US-India initiative on Critical and Emerging Technologies.
The two countries established a partnership to make the semiconductor supply chain more resilient through private sector cooperation.

Defence sector:

Cooperation in areas such as armoured vehicles, ammunition, and air combat could include a deal for India, the world's largest arms importer, to manufacture under licence GE's F414 turbofan jet engine to power the indigenous Tejas Mk2 light combat aircraft that is under development.
Problem areas:
The US still has significant export controls on India (instituted after the 1998 nuclear test), which inhibits the free transfer of technology.
Among the outstanding trade issues that require resolution are visa delays and the revoking of India's trade benefits under the Generalised System of Preferences (GSP) programme in 2019.
The US has complained about India's trade policy being overly protectionist, especially with regard to entry barriers for foreign investment and unsteady legal rules.
India has been raising tariffs over the last few years, reversing an earlier policy of lowering tariffs that endured for decades.
New Delhi will likely be nudged to join the trade pillar of the US-led Indo-Pacific Economic Framework (IPEF).

From Washington's perspective, there is no political appetite for a full-scale free trade agreement (FTA), and it sees the IPEF as a more practical substitute for bilateral deals.
India has signed up for three pillars of the IPEF:

committed to building more resilient supply chains,
tapping clean energy opportunities, and
combating corruption

It has opted out of the fourth pillar (trade) citing reservations about the commitments required on environment, labour, digital trade, and public procurement.

There is growing disquiet within sections of the Union government over Indianot finding an entry into the Minerals Security Partnership (MSP), a US-led partnership to secure supply chains of critical minerals.

It is aimed at reducing dependency on China.
The partnership has now been expanded to include a new member, Italy (along with the 11 founding countries and the European Union).
---
Topic 5: Archaeologist finds Mesolithic-era rock painting in Andhra's Guntur
Context: A Mesolithic period rock painting depicting a person tilling a piece of land has been found by D. Kanna Babu.
Key details:
While surveying the lower River Krishna Valley to ascertain the architectural features of shrines, archaeologist identified a new prehistoric rock painting on the walls and ceiling of natural rock shelters on a hillock at Orvakallu.
These were shelters for prehistoric humans who lived at this place.
Among these five naturally formed caves, two are embellished with distinguished depictions of rock paintings on the back walls and ceilings executed by people of Mesolithic Age, roughly from 5000 BC.
The paintings were made with natural white kaolin and red ochre pigments.

Ochre is a pigment composed of clay, sand, and ferric oxide.
Kaolinite is a soft, earthy, and usually white mineral produced by the chemical weathering of aluminium silicate minerals like feldspar.

Culture of people

The paintings indicate a semi-settled life pattern in which members of this community cultivated crops.
---
Topic 6: Submersible and a submarine
Context: The Titan, the vessel that went missing in the area of the Titanic wreck in the North Atlantic recently, is classified as a submersible, not a submarine, because it does not function as an autonomous craft, instead relying on a support platform to deploy and return.
What is a submersible and how is it different from a submarine?
Submarine has enough power to leave a port and come back to a port by itself.
A submersible, on the other hand, has limited power reserves so it needs to be launched by a mothership that will also have to recover it.
Examples:

Scuba divers need to be dropped to a certain point in the ocean where they can explore before they come back to a ship that will bring them back to a port.
What is 'Titan'?
OceanGate's submersible vessel that went to explore the wreckage of the Titanic is called the Titan.
It is a manned submersible designed to carry up to five people (one pilot and four crew members) to a depth of 4,000 metres, where they can carry out surveys and inspections, research and data collection, film and media production and deep sea testing of hardware and software.
It is made up of carbon fibre and titanium.

Carbon fibre is a polymer that is known to be quite strong despite being lightweight.

It can be as much as five times stronger than steel and twice as stiff.

Titanium is as strong as steel but around 45 per cent lighter.

It is twice as strong as aluminium but only 60 per cent heavier.

Its most important feature is its life support system that can sustain a crew of 5 for a maximum of 96 hours.
Also, the submersible uses a proprietary "Real Time Hull Health Monitoring" (RTM) system, which provides an unparalleled safety feature that assesses the integrity of the hull throughout every dive.
---
Topic 7: INS Kirpan
Context: India gifts INS Kirpan to Vietnam.
Key details:
India gifted the indigenously-built in-service missile corvette INS Kirpan to Vietnam to enhance its naval capabilities.
INS Kirpan is a Khukri class missile corvette and was commissioned into the Navy in 1991.
It has a displacement of close to 1,400 tonnes and is capable of speed in excess of 25 knots.
India-Vietnam Relations:
While the formal diplomatic relations were established in 1992, the relations between the two countries are more than 2000-year-old.
Economic and cultural links can be traced back to the 2nd BC.
They point out that Buddhism reached Vietnam via Indian delegations in the 3rd or 2nd BC.
As per legends, Chu Ðong Tu (a famous Vietnamese divine being and a ruler) became a disciple of an Indian Buddhist monk and Luy Lâu, in Bac Ninh Province became the centre of Buddhism. T
The Cham civilisation is yet another symbol of long relationship.
Strategic partnership:

India and Vietnam have elevated their relations from Strategic Partnership in 2007 to Comprehensive Strategic Partnership in 2016.
This reflected the commitment of two countries to become more invested in boosting their bilateral relations in a wide array of fields.

Trade and investment:

Both the countries are emphasising the need for promoting trade and investment and cooperation in hi-tech for economic development.
The bilateral trade between the two countries registered a significant growth since 2000 when it was only $ 200 million to 2021-2022 reaching to $ 414 billion.
In 2021-2022, the bilateral trade between India and Vietnam posted a growth of 27 %.
Vietnam is also a member of the Comprehensive and Progressive Agreement for Trans-Pacific Partnership (CPTPP,) RCEP and India-ASEAN Free Trade Agreement.
Currently, India is one of the top 8th trading partners of Vietnam while Vietnam is the 15th largest trading partner of India and the fourth in Southeast Asia.
The key Vietnameseexported products to India are:

mobile phones and components,
computers,
electronic products and components,
chemicals,
plastics,
rubber,
coffee,
pepper, and
cashew.

The main Indian exported products to Vietnam are:

iron and steel products,
textile materials,
fishery,
corn,
pharmaceutical, and
pharmaceutical raw materials;
auto spare parts.

Socio-political relations:

Vietnam occupies a central position in India's Act East Policy as also in the Indo-Pacific strategy.
India has made positive contributions towards capacity building and socio-economic development of Vietnam.
India has also been providing assistance to Vietnam within the ASEAN framework.
Both the countries desire to do away from the dependence on China.
Both the nations desire stable, open, free and inclusive Indo-Pacific Ocean region.

Infrastructural development:

Under the Mekong Ganga Cooperation (MGC) framework, India has been taking up Quick Impact Projects (QIPs), each valued at US$50,000, in different provinces of Vietnam for development of community infrastructure.
India has 317 valid projects worth over 1 billion USD in Vietnam, ranking 23 out of the 129 countries and territories investing in that country.

Defence exercises

Vietnam-India Bilateral Army Exercise VINBAX
---