Topic 1: Madhav Gadgil report
Context: A landslide in Maharashtra's Raigad district last week claimed 27 lives, flattened an entire village, and brought back into focus the 2011 Dr Madhav Gadgil report on conservation of the Western Ghats.
About the report:
In 2010 a Western Ghats Ecology Expert Panel (WGEEP) was created which was chaired by ecologist Dr Madhav Gadgil.
The commission submitted its report to the Centre in 2011.
The report recommended classifying 64 percent of the Western Ghats, spread over six states, into Ecologically Sensitive Zones called ESZ 1, ESZ 2 and ESZ 3.
It also recommended designating the entire region as an Ecologically Sensitive Area (ESA).
Almost all developmental activities like mining, construction of thermal power plants, dams were to stop along with the decommissioning of similar projects that have completed their shelf life in ESZ 1.
It said that both the Athirappilly and Gundia hydel project sites should not be accorded environmental clearance as they fall in this zone.
Permissions and Prohibitions:

Genetically modified crops should not be allowed,
Use of plastic bags be prohibited,
Special Economic Zones should not be permitted,
New hill stations should not be allowed,
Changing the land use from farmland to non-farm land and
Stoppage of diversions of rivers to protect the ecology of the region,
Public lands should not be converted into private lands.

Recommendations:

The report also suggested a bottom-to-top approach instead of a top-to-bottom approach in governance of the environment, indicating decentralization and more powers to local authorities.
It recommended the establishment of a Western Ghats Ecology Authority under the Environment (Protection) Act, 1986, as a professional body to manage the ecology of the region and to ensure its sustainable development.
A ban on growing single commercial crops like tea, coffee, cardamom, rubber, banana and pineapple, which have led to fragmentation of forest, soil erosion, degradation of river ecosystems and toxic contamination of the environment.
A policy shift is urgently warranted curtailing the environmentally disastrous practices and switching over to a more sustainable farming approach in the Western Ghats.
Taking critical steps to involve citizens, including proactive and sympathetic implementation of the provisions of the Community Forest Resources of the Forest Rights Act.
Kasturirangam Committee vs the Gadgil committee:
In 2012, a High-Level Working Group on Western Ghats was constituted under former Indian Space Research Organization (ISRO) chief Dr K Kasturirangan.
Kasturirangan-led panel formulates report to replace the Gadgil Report.
While the Gadgil panel recommended 64 percent area in the Western Ghats, a report by a panel led by Dr K Kasturirangan notified only 37 percent of the area as ecologically sensitive.
It also split the Western Ghats into cultural (human settlements) and natural (non-human settlements) regions.

It was suggested that cultural lands be designated as an ecologically sensitive area (ESA).

It also consisted of red, orange and green categories.

The red list entailed a ban on mining, stone quarrying, thermal plans and certain construction and township projects
The orange category had activities that would be regulated and taken up with appropriate permissions
The green category allows all agricultural and horticultural activities and commercial activities.

In 2017, the Environment Ministry issued a draft notification, demarcating an area of 56,285 sq km in the Western Ghats as ESA as opposed to the 59,940 sq km recommended by the Kasturirangan committee.
By 2022, the Centre announced a high-powered committee constituted by the Ministry of Environment, Forest and Climate Change (MoEF&CC) to conduct physical landscaping and submit a detailed report in a year's time.
---
Topic 2: Meri Maati, Mera Desh campaign
Context: The Union government has launched the Meri Maati, Mera Desh campaign envisaged as a culminating event of the Azadi Ka Amrit Mahotsav celebration.
Key details:
Under the campaign, soil collected from different parts of the country in will be used to develop a garden along the Kartavya Path in Delhi.
The five-point agenda includes the installation of a shilaphalakam (memorial plaque), bearing the names of those who have made the supreme sacrifice.
---
Topic 3: Mexico border barrier
Context: The US Justice Department sued the state of Texas for installing floating barriers in the Rio Grande River to stop migrants crossing from Mexico.
Key details:
The Rio Grande runs from Colorado to the Gulf of Mexico and is the effective US-Mexican border through most of Texas.
But it is also a key route for migrants from Mexico to try and enter the United States
The barricade is essentially a 1,000-foot (305-meter) line of bright orange, wrecking ball-sized buoys.
The Mexico–United States barrier is a series of vertical barriers along the Mexico–United States border intended to reduce illegal immigration to the United States from Mexico.
The barrier is not a continuous structure but a series of obstructions variously classified as "fences" or "walls"
---
Topic 4: Flight Duty Time Limitation
Context: Recently, around 100 passengers were stranded in Rajkot after their Air India flight to Delhi was cancelled as the pilot had refused to take off because it would have violated the flight duty time limitation (FDTL) norms laid down by India's aviation safety regulator.
About FDTL:
The flight duty time limitations (FDTL) are laid down by the Directorate-General of Civil Aviation (DGCA).
Aim:

To ensure adequate rest timings for pilots and flight attendants and prevent fatigue-related safety issues.

The DGCA mandates that all airlines follow FDTL norms, which include rules such as all crew members can fly:

a maximum of 8 hours in a day,
35 hours in a week,
125 hours in a month, and
1,000 hours in a year.

Other rules include that every crew member shall be given rest, which will be pro-rata twice the flight time subject to a minimum of 10 hrs in any 24 consecutive hours.
Concerns:
Smaller airports are usually more susceptible to FDTL-related disruptions because they are unlikely to have standby crew, and it is difficult to mobilise them at short notice.
Airlines base the bulk of operational staff in big cities with busy airports, where it is easier to have standby crews or mobilise them quickly.
It would still be unviable and inefficient to have sizable crews in all cities of operation just to prevent any possible FDTL-related disruption.
Way forward:
Given the volume of traffic, India does not see many FDTL-related disruptions.
This could change in the coming years as Indian carriers expand their fleet and networks, and a steady supply of additional pilots is required.
India is estimated to have around 9,000 pilots for a fleet of some 700 aircraft currently.
Almost 2,000 additional pilots may be needed every year over the next few years to keep up with the expected pace of fleet expansion.

This is more than double the number of commercial pilot licences that the DGCA currently issues annually.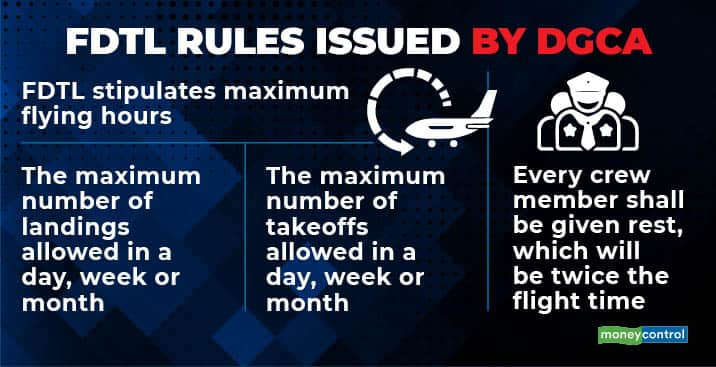 The DGCAThe Directorate General of Civil Aviation (DGCA) is a statutory body of the Government of India to regulate civil aviation in India.It became a statutory body under the Aircraft (Amendment) Act, 2020.The DGCA investigates aviation accidents and incidents, maintains all regulations related to aviation and is responsible for issuance of licenses pertaining to aviation like.Headquarter: New Delhi.The Government of India is planning to replace the organisation with a Civil Aviation Authority (CAA), modelled on the lines of the American Federal Aviation Administration (FAA).
---
Topic 5: Himachal floods: a man-made disaster?
Context: Flash floods during this year's monsoon season have caused unprecedented damage to both lives and assets in Himachal Pradesh.
Major Concerns:
The climate change link:
The IPCC (Intergovernmental Panel on Climate Change) VI report has clearly stated that the Himalayas and coastal regions of India will be the hardest hit by climate change.
In the Himalayas, there is a noticeable pattern of increased precipitation occurring in shorter periods of time.
The India Meteorological Department data shows that the normal rainfall during this period is expected to be between 720mm and 750 mm.
However, in certain instances, it has exceeded 888 mm in 2010 and 926.9 mm in 2018.
Anthropogenic factors:
Apart from climate change, anthropogenic factors have also significantly contributed to the disaster.
Dr. Parmar Model:

The State's development model initiated after it came into being in 1971 had been successful in transforming Himachal Pradesh into an exemplar of development for mountain States.
This model, known as the Dr. Parmar model (named after the founding Chief Minister, Dr. Y.S. Parmar), focused on:

exemplary land reforms,
robust state-led investment in social welfare, and
a strong emphasis on human resources.

These efforts resulted in Himachal Pradesh ranking second in social development indices.

By the1980s:

electricity had reached every household,
there was improved connectivity in remote areas through health care centres,
many schools came up,
there were major advancements in agriculture, and
a shift towards the apple and off-season vegetable economies fostered both economic and social vibrancy.

Depleting natural resources and construction of hydropower projects:

The exploitation of natural resources, including forests, water, tourism, and cement production, became a major focus for development.
This led to the rapid construction of hydropower projects, often:

causing damage to rivers and their ecosystems,
widening of roads without proper geological and engineering assessments,
expansion of cement plants altering land use patters, and
a shift in agricultural practices to cash crop economies that affected the landscape and river systems.
Impact of Hydropower projects
Huge investments:

The pursuit of hydropower projects became a dominant focus for hill States, with their capacity measured in terms of megawatts (MW) to attract investments.
There was a significant shift in funding priorities of multilateral agencies.

Prior to 2000, these agencies were opposed to financing large hydropower projects, but they changed their stance and started providing funding for such ventures, making finance readily available for these projects.

Uncontrolled constructions and impact on rivers:

One of the main reasons for the devastating impact of floods in the region is the uncontrolled construction of these hydropower projects, which have essentially transformed mountain rivers into mere streams.
The technology employed, known as "run of the river" dams, diverts water through tunnels burrowed into the mountains, and the excavated material (muck) is often disposed of along the riverbeds.
During periods of higher precipitation or cloudbursts, the water returns to the river, carrying the dumped muck along with it.
This destructive process is evident in rivers like Parvati, Beas and Sutlej, as well as many other small hydropower dams.
Moreover, long tunnels spanning 150 km have been planned or commissioned on the Sutlej river causing significant harm to the entire ecosystem.

More projects to come:

Currently, there are 168 hydropower projects in operation, generating 10,848 MW of electricity.
Looking ahead, it is projected that by 2030, 1,088 hydropower projects will be commissioned to harness 22,640 MW of energy.
This surge in hydropower projects raises concerns about the inevitability of impending disasters in the region.
Impact of Tourism:
Road widening:

The road-widening projects involve transforming two-lane roads into four-lane roads and single lanes into two- lane roads.
The development model follows a public-private-partnership (PPP) approach, emphasising the need to complete these projects rapidly.
However, this has resulted in bypassing essential geological studies and mountain engineering skills.

Vertical cutting of mountains:

Traditionally, mountainous regions are not cut with vertical slits but are terraced, minimising the damage to the environment.
In both the four-lane projects in Manali and Shimla, the mountains have been cut vertically, leading to massive landslides and damage to existing roads.
Restoring these roads after such disasters is a time-consuming process, often taking months or even years.
The consequences of such road expansions are evident during even normal rainfall, as it leads to slips and slides, amplifying the magnitude of the destruction during heavy rain or floods.
Impact of cement plants
The establishment of massive cement plants and extensive cutting of mountains have resulted in significant land use changes.
It has contributed to flash floods during rainfall.
The cement plants alter the natural landscape, and the removal of vegetation leads to reduced capacity of land to absorb water.
Changing crop patterns
A silent transformation is occurring in agriculture and horticulture patterns, leading to significant shift in both landholdings and produce.
More farmers are now embracing a cash crop economy over traditional cereal farming.
This shift has implications for the transportation of these crops to markets within a short timeframe owing to their perishable nature.
In response to this need, roads are being constructed hastily without considering essential land cutting and gradient requirements.
Modern excavators are employed in construction, but without creating proper drains or designated areas for dumping muck.
Consequently, when it rains, the water finds its own path, carrying the dumped muck along with it and depositing it into the river ecosystem.
As a result, even during normal rainfall, rivulets and rivers experience rapid swelling.
Although the total designated road length in the State is around 1,753 km, the total length of all roads including the link and village roads is more than 40,000 km.
Way forward:
Need for a commission of inquiry:

A Commission of Inquiry must be instituted to bring the major stakeholders — the people — on board and discuss both the policy framework failures, as well as the peculiar aspects of the projects undertaken.

Need of New architecture:

A new architecture is required to empower local communities over their assets.
The losses faced in the forms of culverts, village drains, small bridges, schools, other social infrastructure must be compensated.
This can be done if the assets are insured and the custodians are local communities.
This will help to rebuild the assets quicker.
---
Topic 6: Instant settlement of trades of SEBI
Context: The securities market regulator has said it is working on real-time settlement of transactions in India's stock exchanges.
About trade settlement
What is settlement?

'Settlement' is a two-way process that involves the transfer of funds and securities on the settlement date.
As of now, there is a lag between trade and settlement:

The settlement date is different from the trade date.

A trade settlement is said to be complete once purchased securities of a listed company are delivered to the buyer, and the seller gets the money.

The T+1 cycle:

The current cycle of 'T+1' in India means trade-related settlements happen within a day, or within 24 hours of the actual transaction.
India became the second country to start the T+1 settlement cycle in top listed securities after China.

Benefits of T+1:

operational efficiency,
faster fund remittances,
share delivery, and
ease for stock market participants.
SEBI's current announcement:
SEBI has said it is working on a plan for instantaneous settlement of trades in the securities market.
Same-day, or 'T+0', settlement of trades will be possible with the real-time payment system — Unified Payments Interface (UPI), online depositories, and technology stack.
T+1 vs T+0:

Under the current T+1 settlement cycle, if an investor sells securities, the money gets credited into her account the following day.
Under the T+0 settlement cycle, if investors sell shares, they will get the money in their account instantaneously, and the buyers will get the shares in their demat accounts the same day.
Securities and Exchange Board of IndiaSEBI is a statutory body and a market regulator, which controls the securities market in India.The basic functions of Sebi is to protect the interests of investors in securities and to promote and regulate the securities market. Sebi is run by its board of members.The board consists of a Chairman and several other whole time and part time members.The chairman is nominated by the union government.The others include:two members from the finance ministry,one member from Reserve Bank of India andfive other members are also nominated by the Centre.The headquarters of Sebi is situated in Mumbai and the regional offices are located in Ahmedabad, Kolkata, Chennai and Delhi.HistoryBefore Sebi came into existence, Controller of Capital Issues was the regulatory authority.It derived authority from the Capital Issues (Control) Act, 1947.In 1988, Sebi was constituted as the regulator of capital markets in India.Initially, Sebi was a non-statutory body without any statutory power.Following the passage of the Sebi Act by Parliament in 1992, it was given autonomous and statutory powers.
---
Topic 7: Middle Eastern Respiratory Syndrome
The World Health Organization (WHO) confirmed that a man had been infected with the deadly Middle Eastern Respiratory Syndrome coronavirus (MERS-CoV) in the United Arab Emirates (UAE).
About Middle East Respiratory Syndrome (MERS)
Middle East Respiratory Syndrome (MERS) is a severe respiratory illness that mainly involves the upper respiratory tract.
Symptoms:

fever, coughing, and shortness of breath.

Mortality rate:

About 30% of people who have gotten this illness have died.

Causes:

MERS is caused by the Middle East Respiratory Syndrome Coronavirus (MERS-CoV).
Coronaviruses are a family of viruses that can cause mild to severe respiratory infections.
MERS was first reported in Saudi Arabia in 2012 and then spread to many countries..

Transmission:

The MERS virus comes from MERS-CoV virus mainly spreads from animals to humans.
The virus has been found in camels, and exposure to camels is a risk factor for MERS.
The virus can spread between people in close contact.

Treatment:

Right now, there is no vaccine for MERS and no specific treatment.
Supportive care is given.
---
Topic 8: No confidence motion
Context: Lok Sabha Speaker recently accepted the Opposition's no confidence motion against the Government.
About a no confidence motion
Constitutional Status:

Article 75(3) of our Constitution embodies this rule by specifying that the Council of Ministers are collectively responsible to the Lok Sabha.

Who can move it?

Any Lok Sabha MP, who can garner the support of 50 colleagues, can, at any point of time, introduce a motion of no-confidence against the Council of Ministers.
The member is not obligated to furnish a reason for moving the motion.
It must be supported by at least 50 MPs to be accepted for discussion by the House Speaker.

What the government can do?

The government must prove majority during the floor test to continue in power, failing which it has to resign.

In which house can it be moved?

A no confidence motion can only be moved in the Lok Sabha.
Such a motion cannot be moved in the Rajya Sabha.

The procedure:

For testing the collective responsibility, the rules of Lok Sabha provide a particular mechanism – a motion of no-confidence.
A discussion on the motion takes place.
MPs who support the motion highlight the government's shortcomings, and the Treasury Benches respond to the issues they raise.
Finally, a vote takes place – in case the motion carries, the government is bound to vacate the office.
How many no confidence motions have been moved in the past?
It was during the third Lok Sabha in 1963 that the first motion of no confidence was moved by Acharya J B Kripalani against the government headed by Prime Minister Jawaharlal Nehru.
Since then, there have been 26 more no-confidence motions moved in the parliament (not counting the latest one), with the last one being in 2018.
Indira Gandhi as Prime Minister faced the most number of no-confidence motions – 15.
Lal Bahadur Shastri and Narasimha Rao both faced it thrice, Morarji Desai twice and Jawaharlal Nehru, Rajiv Gandhi, Atal Bihari Vajpayee faced once each.
All the no-confidence motions have been defeated except when Prime Minister Morarji Desai resigned during the discussions in 1979.