Topic 1: National Health Account
Context: There has been a consistent increase in government spending, coupled with declining out-of-pocket expenditure by people on their healthcare needs, shows the National Health Account Estimates 2019-20, released recently.
What is a National Health Account?
The National Health Accounts is a process through which countries monitor the flow of money in their health sector.
The three major categories of health expenditure are:

Health Care Functions,
Health Care Providers,
Health Care Financing Schemes.

Public expenses

Tax
Mandatory Health Insurance – Social
Security- Earmarked taxes
Public Donor funding

Private expenses

Direct Household Expenses (OOP)
Non Governmental Organisation
Private insurance – Community Insurance
Health expenses by companies
Key findings:
Government spending:

The government spending on healthcare has been on the rise.
The money spent by the government on healthcare as a percentage of GDP has increased from 1.13% in FY 2015 to 1.35% in FY 2020.
Even this small percentage increase in the government's health kitty has translated into nearly double the money spent on each person.
The per capita health spend of the government in this period has increased from Rs 1,108 to Rs 2,014.
The government's share in the total money spent on healthcare in the country went up by a 12.4 percentage point between FY 2015 and FY 2020, increasing from 29% to 41.4%.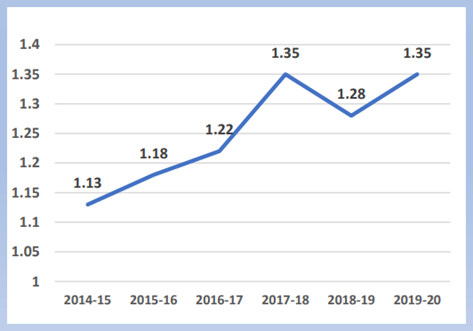 Private spending:

Money spent by people from their own pocket on healthcare has been going down.
The report shows that 47.1% of the total spending on healthcare in FY2020 came directly out of people's pockets.
This is a 15.5 percentage point drop from 62.6% of the spend coming out-of-pocket in FY 2015.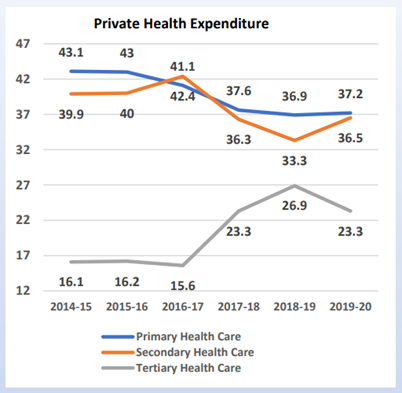 Sectorwise spending:

A major chunk of the government's health spend was in the primary sector.
Out of the total spending by the government on healthcare in FY 2020:

55.9% went to primary care,
29.6% went to secondary care, and
6.4% went to tertiary care.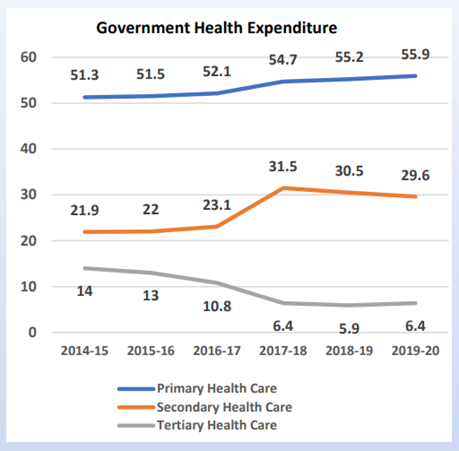 Social security expenditure:

There has been a consistent increase in social security expenditure by the government, which increased from 5.7% of the total spending on health in FY 2015 to 9.3% in FY 2020.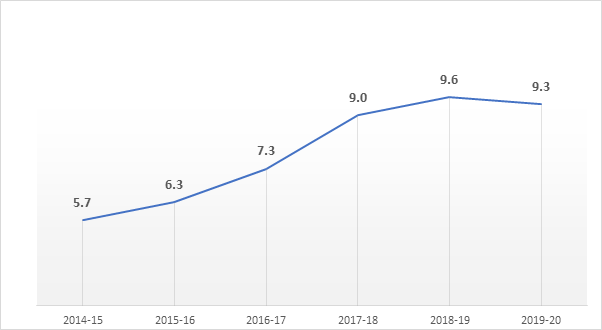 Spending on insurance:

There has been an increase in spending on privately purchased health insurance as well.
Privately purchased health insurance made up for only 3.9% of the total health expenditure in FY 2015, which increased to 7.72% in FY 2020.
The government financed health insurance spending also went up from 3.8% of the total money spent on healthcare in FY 2015 to 6.37% in FY 2020

Health spending by states:

There was a need for the states to increase their contribution towards healthcare and achieve the target set by the National Health Policy 2017, which says that 8% of states' budget should go towards healthcare.
Right now except for one or two states, the target of 8% hasn't been achieved.
Only two big states and three of the smaller ones have crossed the 8% target in FY 2020 –

Delhi (contributing 18.7% of its total spending on health),
Kerala (8%),
Puducherry (10.5%),
Meghalaya (8.9%), and
Goa (8.7%).
Concerns:
Inclusion of capital spending:

The increase in government health expenditure as a percentage of GDP also takes into account capital spending (money spent on developing infrastructure).
Other countries look at only the current health expenditure, which for India stands at 1.04% calculated based on this report.
This puts India in 164th place out of 184 countries in terms of government health spending.

Shrinking economy effect:

Also, the marginal increase in percentage could be a factor of a shrinking economy – GDP growth was slow in FY 2020.
Conclusion:
With health being a state subject, much of the government spending comes from the states.
There is a need for the Centre to provide more support to states that demand it.
At present, the government schemes force the states to spend by giving them a percentage from the Centre for the implementation of a scheme.
However, if a state decides to implement a scheme, they need to be supported by Centre.

For example, Rajasthan trying to implement the right to health bill, the Centre should encourage such efforts and give them additional funds.
---
Topic 2: Gum Arabic
Context:Sudan's eruption into conflict has left international consumer goods makers racing to shore up supplies of gum Arabic.
Key details:
It is one of the country's most sought-after products and a key ingredient in everything from fizzy drinks to candy and cosmetics.
About 70% of the world's supply of gum arabic, for which there are few substitutes, comes from the acacia trees in the Sahel region that runs through Sudan.
How is it used?

In their manufacturing process, food and drink companies use a spray-dried version of the gum that is powder-like.
While cosmetics and printing manufacturers may be able to use substitutes, there is no alternative to gum arabic in fizzy drinks, where it prevents ingredients from separating.
What is Gum Arabic?
Gum arabic is a natural gum originally consisting of the hardened sap of the Acacia tree.
The gum is harvested commercially from wild trees, mostly in Sudan (80%) and throughout the Sahel, from Senegal to Somalia.
The name "gum Arabic" was used in the Middle East at least as early as the 9th century.
Properties:

It is a complex mixture of glycoproteins and polysaccharides.
It is soluble in water, edible.

Uses:

It is used primarily in the food industry and soft-drink industry as a stabilizer.
Gum arabic is a key ingredient in traditional lithography and is used in printing, paints, glues, cosmetics.
Various industrial applications, including viscosity control in inks and in textile industries.
---
Topic 3: Star rating system for water taps
Context: The Centre is in the process of bringing in a star rating system for water fixtures similar to the ratings for electrical appliances.
Key details:
The new rating system would have 3, 4 and 5 star water fixtures based on their water efficiency.
This rating system would come under one umbrella called Bharat Tap.
Need:

Data showed that on average over 30% of water can be saved.
However, there was not enough data available to assist consumers in making informed decisions when purchasing sanitary fixtures.
We need to start quantifying how much water is wasted in each activity and how it adds to the overall cost of water.
The star rating system:The Bureau of Energy Efficiency (BEE) has developed a star rating system for electrical appliances that will help recognise an energy-efficient appliance.The appliance efficiency ratings are labelled in a range of 1 to 5 stars.An energy star refers to the appliance's energy efficiency, with 1 star being the least efficient and 5 stars being the most efficient.The Bureau of Energy EfficiencyThe Bureau of Energy Efficiency is a government agency under the Ministry of Power.It acts as an intermediary body between the Government, manufacturers and consumers with the goal of energy efficiency.The main goal of this agency is to set norms and standards for energy ratings and act as an enforcement body. BEE is also responsible for making consumers aware of the importance of energy efficiency.
---
Topic 4: Forest fires in Uttarakhand
Context: Forest fires now pose a threat to the very survival of Uttarakhand's unique biodiversity
Key details:
Biodiversity in the state:

Uttarakhand is home to at least 102 species of mammals, 70 reptiles, 19 amphibians, and 124 species of fish.
The state also boasts of 600 species of birds.
With 7,000 species of plants, Uttarakhand contributes 31 per cent of the country's floral diversity.

As many as 119 flowering plants are endemic to the state.

Threat perception:

The International Union for Conservation of Nature (IUCN) classifies 55 of the bird species as "threatened", of which six are critically endangered and four are endangered.
Several mammalianfauna found in the state are also classified as endangered.

The list includes the Asian elephant, tiger, Alpine musk deer, Himalayan musk deer, leopard, snow leopard, blue sheep, Himalayan Thar, leopard cat, Himalayan black bear, sloth bear and pangolin.

Impact of forest fires:

Direct loss:

The impact of recurrent forest fires in Uttarakhand will lead to the direct loss of trees and wildlife, their displacement and subsequent colonisation of unwanted species.

Life cycle disturbances:

Forest fires can meddle with the life cycle of species and push many of the threatened and endemic species closer to extinction.
For instance, by destroying the leaves and foliage, a forest fire can significantly reduce the photosynthetic activity of surviving trees and thereby affect their growth.
It can also damage the seed bank, both above and below the ground, and wipe out the seedlings and saplings growing on the forest floor.

Loss of keystone species:

The loss of keystone organisms in forest ecosystems, such as invertebrates, pollinators, and decomposers, can significantly slow the recovery rate of the forest.

Disturbance in reproductive cycles:

Forest fires can also interfere with the reproduction and propagation of certain plants and animals.
Such recurrent events can be deadly to the species that are native or endemic to the region.

Important medicinal plants that can get affected:

Taxus baccata L:

It is a conifer native to the Himalayas, known for anti-cancerous properties.
A massive forest fire during the flowering season can severely impede propagation of the species.

Asparagus adscendens Roxb:

Asparagus adscendens Roxb, a native plant of the Himalayas is used for vigour and vitality.
A forest fire can damage its mature fruits and hinder fruiting.

Berberis:

These are highly valued for curing ailments like eye disorders, abdominal disorders and skin diseases.
One of its species, B aristata, whose roots, stem and leaves are used in the treatment of various ailments, is already at risk from overexploitation.

Stephania glabra:

Stephania glabra is another medicinal plant whose tuber is used in the treatment of asthma, tuberculosis, dysentery, hyperglycemia, cancer, fever, intestinal complaints, sleep disturbances and inflammation.

Zanthoxylum armatum DC:

Zanthoxylum armatum DC is widely used for curing toothache, pyria and allergy.
Though the plant is available across southeast Asia, natural regeneration is poor in the species.

Wildlife at risk due to fire:
Species
Degree of threat
Asian elephant
Endangered, Schedule-I
Tiger
Common leopard
Vulnerable, Schedule-I
Sloth bear
Cheer pheasant
Bristled grassbird
Vulnerable
Great hornbill
Near threatened, Schedule-I
Laggar falcon
Himalayan monal
Schedule-I
Kalij pheasant
Indian peafowl
Western tragopan
Vulnerable, Schedule-I
Satyr tragopan
Near Threatened, Schedule-I
Way forward:
Collect fuel load in time:

Pine needle and dry leaf litter are the common fire materials that occur on the forest floor.
These should be cleared by collecting them before January, when the fire season begins in Uttarakhand.

Fix fire line:

Creation of fire line is often delayed in Uttarakhand.
This pattern needs to be changed and a timely excavation of the fire line should be ensured.

Install fire watch towers:

There is an urgent need for these towers in this hilly state with undulating topography, especially in areas that have a history of a forest fire.
They can help monitor forests during the fire season.
Compensatory fodder:

People who depend on livestock often ignite fires for better regeneration of grasses.
The government can dissuade them from doing so by supplying compensatory fodder.

Ex-situ conservation:

The forests of Uttarakhand are home to several high-value and threatened plant species.
They can be conserved by growing them outside forest areas such as mass seedling production sites and nurseries.
People can also be encouraged to cultivate these plant species in their gardens.

Other steps:

There is also an urgent need to understand management techniques such as:

promoting habitat-specific research to limit burning especially in biodiversity-rich and water supply areas;
long-term monitoring programmes covering more than two burns; and
establish a well-equipped centre for unbiased dissemination of information.
---
Topic 5: Seamounts
Context: In an astonishing discovery, scientists have reported finding 19,325 new seamounts after poring through new high-resolution data.
What is a seamount?
A seamount is an underwater mountain.
They are formed through volcanic activity and scientists recognise them as hotspots for marine life.
Like volcanoes on land, seamounts can be active, extinct or dormant volcanoes.
Most seamounts are formed near mid-ocean ridges, where the earth's tectonic plates are moving apart, allowing molten rock to rise to the seafloor.
The planet's two most-studied mid-ocean ridges are the Mid-Atlantic Ridge and the East Pacific Rise.
Some seamounts have also been found near intraplate hotspots (regions of heavy volcanic activity within a plate) and oceanic island chains with volcanic and seismic activity called island arcs.
Significance of seamounts:

Because seamounts are formed when molten rock comes up from below the tectonic plates, they provide information about the mantle's composition and about how tectonic plates evolve.
Oceanographers also study seamounts to understand their influence on how water circulates and absorbs heat and carbon dioxide.
Seamounts are home to diverse biological communities.
They are good places for life because they can cause localised ocean upwelling.

Upwelling is the process by which nutrient-rich water from deep within the ocean moves up to the surface.

How seamounts are mapped?

Surveyors map seamounts using two modes:

echo sounders or multibeam sonar on ships for topographic mapping:

Research vessels with multibeam sonar mapping produce hi-res maps but these maps are often incomplete.
The places where the vessels don't go become blindspots.

satellite altimetry for gravity-field mapping:

In satellite altimetry, a satellite uses radar to gauge the shape of the seafloor by measuring the time taken for each pulse to bounce off the ground and return.
The resulting maps are low-res but have much better coverage.

Related missions:

European Space Agency launched the CryoSat-2 and Envisat.
NASA and French space agency jointly launched the Jason-1 geodetic missions.
SARAL, a satellite that India and France developed together for oceanographic studies, made a significant contribution by further reducing radar noise and enabling the expansion of the seamount catalogue.
---
Topic 6: City Nature Challenge
Context: Over 30 Indian cities are set to participate in the City Nature Challenge.
Key details:
It is an app-based competition that records observations of nature.
The city with the most observations recorded over four days will be the winner.
Organizer:

The Bombay Natural History Society,
World Wide Fund for Nature-India, and
The Naturalist School.

Participants can use the iNaturalist app.
The event was first organised in the U.S. in 2016 by the Natural History Museum and has now become a global citizen-science phenomenon.
---
Topic 7: Microbes at the top of the world
Context: Researchers recently examined the microbiota on the inhospitable slopes of Mount Everest.
Key details:
The researchers were able to collect microbial communities in sediment samples left by human climbers on the South Col of Mount Everest, 7,900 metres above sea level (msl).

The South Col is the ridge which separates Mt. Everest from Lhotse — the fourth highest mountain on earth.
The two peaks are only three kilometres apart.

A cosmopolitan human signature is seen in the microbes collected here.
Which species were observed?

A few species of moss and
A jumping spider that feeds on frozen insects carried by the wind.
Modestobacter altitudinis and
The fungus naganishia, which are known to be UV-resistant survivors.

Why it is inhospitable?

low oxygen (7.8% against 20.9% at sea level),
strong winds,
temperature usually below minus 15 degree Celsius, and
high levels of UV radiation.

The carriers: winds and humans:

Microbes keep arriving, carried by either birds, animals, or winds.
Dust particles less than 20 micrometre in diameter, are blown in by the winds.
Some of this dust originates in the Sahara Desert, which explains why a wide range of microflora are found at these altitudes.
Above 7,000 msl, it is mostly winds and humans that act as carriers.